English / Japanese
RPG & creative works : KATARIBE > World setting > HA > 06 > CG > 2003-05 >
This is a manga work in HAZAMA 06 - Heartwarming Everyday Fantasy.
characters
Man in Black. He use to magic through a computer.
Werewolf girl. She has hidden the ear with hair usually.
---
1. upper

MAENO hands Rin a present.

Rin:

To me?

MAENO:

Yes. It is useful to conceal your beast ears.

2. under

The ears are in the box. It is false ears.

Rin:

...

The imitate lobes. / mimimi
---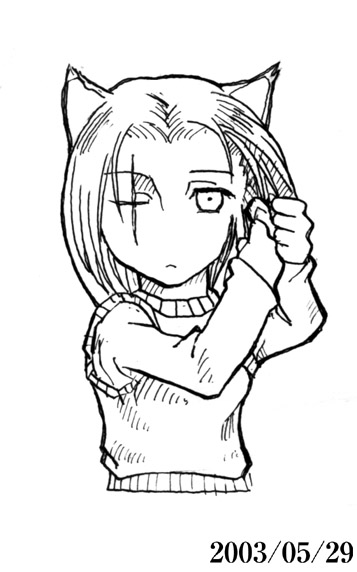 Try on ears. Rin have ear of the beast.
try on ears. / mimimi
---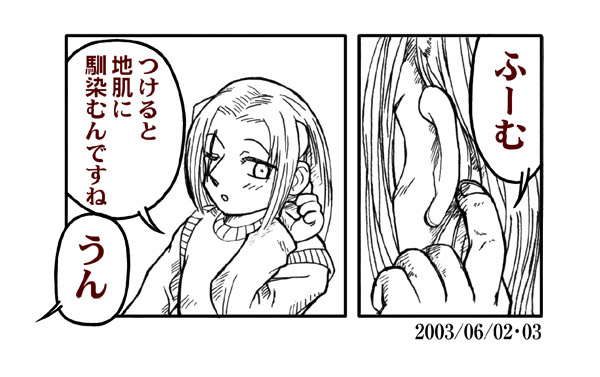 1. right
Rin:

I see.
2. left
Rin:

It harmonize my head. These ears are so lifelike.

MAENO:

Yes.
Best fit. / mimimi
---
---
RPG & creative works : KATARIBE > World setting > HA > 06 > CG > 2003-05 >

RPG & creative works : KATARIBE / webmaster/gamedesigner mail-address: sf@kataribe.com. I request "[en]" in mail Subject. Because , I receive many English spam and virus mail, one hundred or more in a day. I'm weak reading/writing English language. / Copyright(C) 1988,1993-2004 DENMOU KOUBOU TAKUMI All Rights Reserved.