English / Japanese
RPG & creative works : KATARIBE > World setting > HA > 06 > CG > 2003-02 >
This is a work in HAZAMA 06 - Heartwarming Everyday Fantasy.
characters
She is Hi-tou-ban. It is human being whose neck parts and flies. Hi-tou-ban is traditional monster of China . Young girl .
She can manipulate hair . Tetsunari's wife . Older woman .
Naoko's husband . He is wizard of curry magic . He wanders well .
---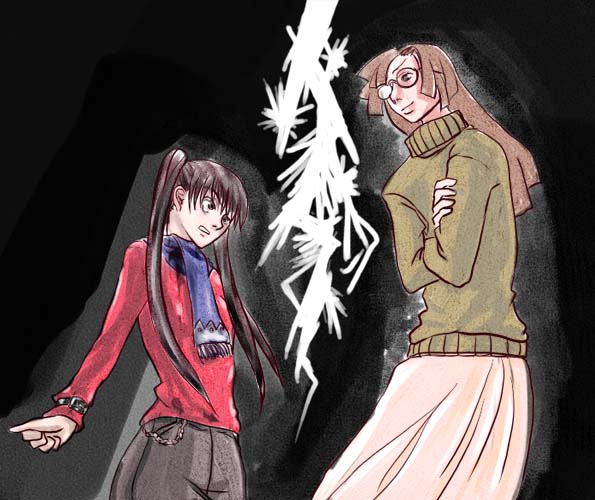 Young girl vs Older woman / kurow
February 14 is St. Valentine's Day that is "Lady send the chocolate to her darling Man" day in Japan .
Naoko:

"I think on about sending a chocolate to Tetsunari . Anyhow , he can't get chocolate ."

Tsumiki:

"Your husband isn't hit with the girls . That is safe ."

Naoko:

"No . He is my partner throughout life ! He is worthy man ."

Sound Effect:

Bati Bati (Lightning Effect)
.. etc . Story is Episode "Taiketsu! komusume and obasan" . It is written by Japanese Language .
---
---
RPG & creative works : KATARIBE > World setting > HA > 06 > CG > 2003-02 >

RPG & creative works : KATARIBE / webmaster/gamedesigner mail-address: sf@kataribe.com. I request "[en]" in mail Subject. Because , I receive many English spam and virus mail, one hundred or more in a day. I'm weak reading/writing English language. / Copyright(C) 1988,1993-2004 DENMOU KOUBOU TAKUMI All Rights Reserved.